The proposed compressor station for the Atlantic Coast Pipeline, planned for the Union Hill community in Buckingham County, VA received a needed air permit on January 8 from the Virginia Air Pollution Control Board. The Board's 4-0 vote came after it had, since originally considering the proposal in November, twice deferred a voe and added an additional public comment period to accommodate views on new information that had been provided by the applicant, Dominion Energy.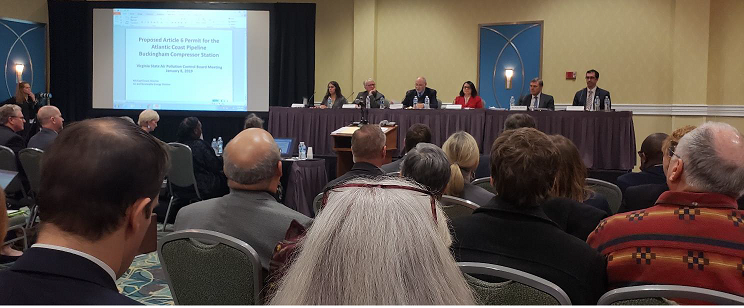 ABRA and its members have been strong opponents of the compressor station. In a January 4 letter, sent on behalf of ABRA, several of its member organizations and other concerned conservation groups, the Southern Environmental Law Center wrote to request that the Board disapprove the proposed air permit for the Buckingham compressor station on the grounds that:
Department of Environmental Quality (DEQ) and Atlantic have provided the Board with inadequate, preliminary demographic information;
DEQ has not considered environmental justice as a factor in its site suitability analysis; and
DEQ is incorrect that compliance with NAAQS is sufficient to demonstrate that there will not be a disproportionate adverse impact on the Union Hill Community.
Continuing, the SELC letter pointed out that "the single most important factor for the Board to consider when determining whether it is "suitable" to site the compressor station in Union Hill is whether doing so would adversely affect an economically disadvantaged or
minority community—in other words, an environmental justice community."
For a copy of the motion adopted by the Air Board in approving the permit, click here.
For DEQ's statement on the action, click here.
For more coverage of the Air Board meeting, see In the News, below.
ACP Compressor Station Permit Granted by Virginia State Air Board