Recent weekly environmental monitoring reports issued by the Federal Energy Regulatory Commission (FERC) of construction problems of the Atlantic Coast Pipeline illustrate the significant environmental difficulties being encountered by the project.  The photos below, taken after rains in Upshur County, WV at milepost 40 of the ACP by FERC Compliance Monitors, show equipment stuck in what the report describes as soil liquified to a depth of 2 to 3 feet, with silt-laden water and sediment deposits migrating into a nearby water body that is a "state-designated warm water fishery." In this instance, appropriate sediment barriers had not been properly installed or not installed at all.  Many similar scenes have also been observed in the construction of the Mountain Valley Pipeline.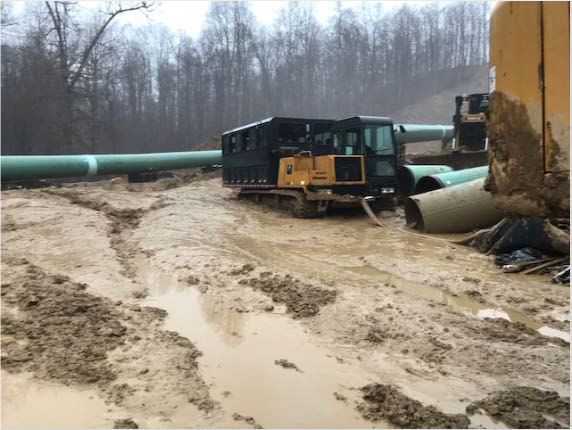 Spread 2-1, MP 40.1, View west of Marooka stuck in mud and liquified soil.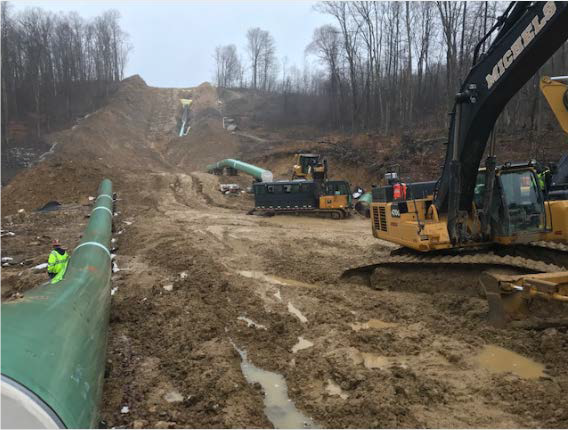 Spread 2-1, MP 40.1, View north of mud and liquified soil in travel lane.
Note depth of mud over equipment tracks.
Why the ACP Challenges the Central Appalachian Ecology