A Canadian mining company, Aston Bay Holdings, has been exploring Buckingham County, VA for the establishment of a large, open-pit gold mining operation.  Though the company began drilling exploratory holes in 2016, plans for the mine did not come to light until quite recently.  The Buckingham County Planning Commission and the Board of Supervisors will conduct a public hearing on the proposed project on Tuesday, October 13 at 6 p.m.  The hearing can be accessed virtually with this link.  For information on how to file comments or present comments during the hearing, click here.
The site of the proposed mine is located along the route of the now-cancelled Atlantic Coast Pipeline, between the Union Hill community and Yogaville.
Friends of Buckingham, an ABRA member, said in its newsletter this week:
"Gold mining historically occurred in Buckingham County, with prospectors using pick-and-shovel. But with modern technology, gold mining involves drilling deep into the Earth, producing massive amounts of waste rock, tainted with dozens of compounds that, when exposed to the elements, can easily leach into the water table, streams and rivers. The waste may contain as many as three dozen toxins including mercury, arsenic, cyanide, lead, acids and petroleum by-products — and many of these leach into water sources.

We are especially concerned about what the waste toxins from this drilling and mining would do to our streams and the shallow residential drinking-water wells in the area. We have additional concerns about noise, air pollution, risks to workers and increased industry traffic."
The proposed mining operation is located within 2 miles of the James River and several streams that pass through or proximate to the mining site flow into the James. 2.7 million people – nearly one-third of Virginia's population – rely on the James River for water, making it the state's largest source of drinking water. As one can see from the photo below of the Halle Gold Mine, located in Lancaster County, South Carolina, gold mining operations are immense.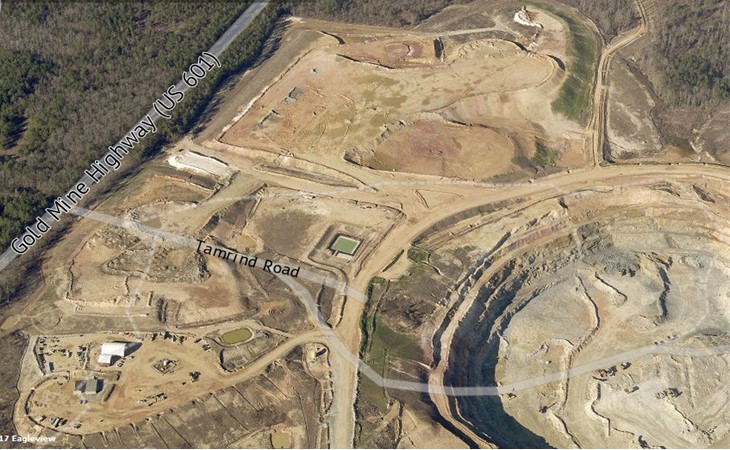 ABRA's new Conservation Hub program is providing technical assistance to Friends of Buckingham in its evaluation of the impacts of the proposed mining operation. Click here for more information about the Hub program and other projects ABRA is addressing. For more information from Friends of Buckingham on the project, click here.
Proposed Gold Mine Could Threaten Buckingham County, James River