The Allegheny-Blue Ridge Alliance (ABRA) is pleased to announce an exciting new program: The Conservation Hub.  ABRA's Conservation Hub program promotes responsible resource management by providing data-focused tools that enhance a project's transparency, strengthen its accountability to regulatory agencies and facilitate public participation in its evaluation process.  The Hub is a regional information and mapping portal, tailored to specific projects in the central Appalachian region of Virginia and West Virginia encompassing 52 counties (26 in VA and 26 in WV, see map below), but also an information resource on the natural resources and character of the region.
Projects beyond the region will be considered on a case by case basis.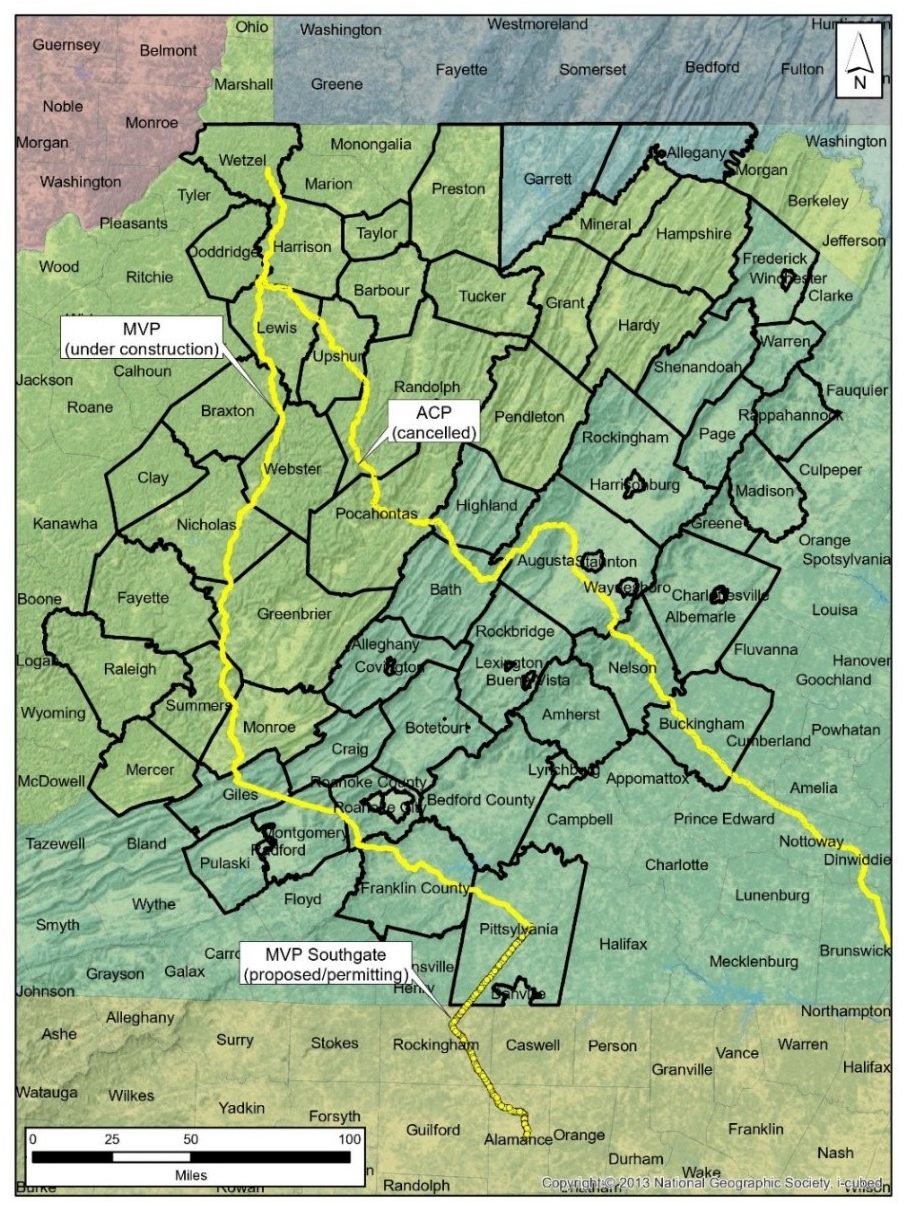 The Conservation Hub is an outgrowth of the mapping system developed for ABRA's Construction Surveillance Initiative (CSI), a program that was created to monitor construction activity of the now-cancelled Atlantic Coast Pipeline. (Note: The CSI program will continue until restoration of the ACP route has been completed.)
Among the lessons learned from ABRA's fight against the Atlantic Coast Pipeline project were the limitations that regulatory agencies often have in conducting in-depth analysis of a project's impacts, particularly those projects that would have cumulative impacts.  Also, the complexity of many projects creates challenges for members of the public wishing to comment and participate as stakeholders in decision-making processes.  ABRA believes the Hub program can help address these and other shortcomings of the permitting and regulatory processes that govern projects by making it possible to:
Effectively examine project plans and proposals in appropriate geographic, environmental, and regulatory context,
Maintain oversight of implementation compliance and performance by overlaying approved plans (erosion and sediment control, slope management, stream crossing, etc.) with georeferenced aerial photography of actual construction, and
Track regulatory system efficacy by mapping noncompliance and agency enforcement actions.
Trial Hub projects are underway
ABRA is already providing assistance in assessing some initial projects as part of the Hub program. In each case, the purpose is to enable the ABRA member conservation group interested in the project to better evaluate its impact.  These initial projects on which ABRA is providing assessment assistance include:
Greenbriar Southeast

– A proposed project involving timber harvesting in a portion of the Monongahela National Forest located in Pocahontas County, WV.
Rocky Forge Wind Farm

– A proposed ridge-top wind farm in Botetourt County, VA.
Corridor H

– A highway project in northern West Virginia.
Shenandoah Rail Trail Partnership

– Public, private, and non-profit groups in Rockingham and Shenandoah Counties, Virginia are considering converting an unused railroad into a 38.5-mile pedestrian and bike trail.
For more about the Hub program, including the aforementioned trial projects, visit the Hub link appearing at the top of the ABRA website homepage at https://www.abralliance.org/.
Future projects will be chosen in consultation with ABRA's Conservation Hub Advisory Committee.  ABRA member organizations, allied conservation groups and others are invited to propose projects for which they believe the Hub could be helpful in enhancing their evaluation.
For more information, questions or to recommend a possible Hub project, contact:
A new ABRA program: The Conservation Hub