In the June 2nd, 2022 issue of ABRA Update we reported the difficult news that Lew Freeman was stepping down after serving as Executive Director of the Allegheny-Blue Ridge Alliance since 2014.
Allen Johnson, Chair of the ABRA Board of Directors, and Dan Shaffer, Conservation Hub Administrator, spoke for all of us when they expressed deep appreciation for Lew's remarkable service to the communities confronted by the now-cancelled Atlantic Coast Pipeline. Lew was the perfect leader in a long, well-fought, and successful battle for our region's environment.
ABRA's Board of Directors is now pleased to announce that Rick Webb has been selected to serve as the new Executive Director for ABRA. Rick is an environmental scientist and advocate with a long-time focus on the Central Appalachian Highlands. His bio follows.
Rick Webb retired in 2014 as a Senior Scientist with the Department of Environmental Sciences at the University of Virginia. His professional emphasis is on scientific investigation and assessment that contributes to the preservation and restoration of ecosystem integrity in the forested mountains of the central Appalachian region. While at UVA, Rick managed watershed research and monitoring programs focused on public lands in Virginia and West Virginia. He contributed to regional assessments of air pollution impacts on aquatic and terrestrial ecosystems, he developed protocols for water and soil monitoring, and he served as an expert witness concerning effects of power plant emissions in the central Appalachian region. Post retirement, Rick worked against the proposed Atlantic Coast Pipeline as Coordinator of the Dominion Pipeline Monitoring Coalition and as part of the team that developed ABRA's Pipeline Compliance Surveillance Initiative. Since the defeat of the pipeline, he has worked on the development of ABRA's Conservation Hub.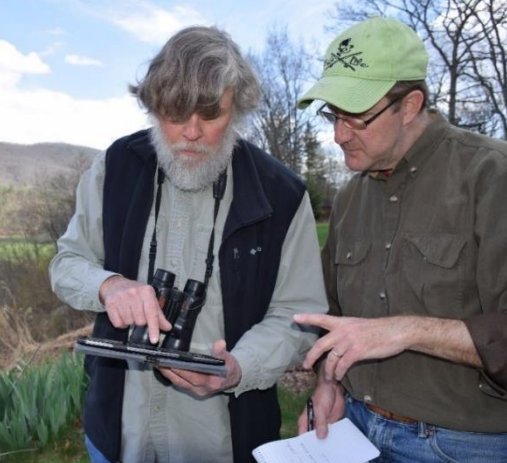 Rick Webb (left) is ABRA's new Executive Director. Here, in 2018, he is discussing problems with Atlantic Coast Pipeline plans to trench through the Jackson River in western Virginia with Mike Soraghan of Energy and  Environment News.  Photo from The Fight Against the Atlantic Coast Pipeline:  A Chronicle
Rick can be contacted at , 540-290-0913, or P.O. Box 96, Monterey, Va. 24465.
Meet Rick Webb, ABRA's New Executive Director